金管會自2017年8月開放自動化投資顧問業務,2018年提出金融發展行動方案,針對證券期貨業期望能擴大金融創新,促進商品多元化,並研議證券投資顧問事業得透過演算法以自動化工具提供全權委託投資業務。自此之後,理財機器人如雨後春筍般推出。理財機器人對一般民眾最有吸引力的部分在提 供「三低」服務:低投資門檻、低管理費和低手續費,讓資產管理與投資不再只是有錢人的專屬服務[i],此正滿足金管會普惠金融的目的。今天我們就來聊聊理財機器人到底是甚麼?同時也看看其他國家都做了些甚麼?
理財機器人或稱為「機器人投資顧問」(Robo-Advisor)係指在沒有人或極少人為干預的情形下,以人工智慧(AI)或演算法,提供投資人理財建議與資產配置的服務,甚至全權委託由線上系統,進行下單服務。理財機器人需要整合眾多的技術,包括機器學習、人工智慧、數據分析、人機介面等等。所謂的理財機器人,一般採用現代投資理論Modern Portfolio Theory (MPT) ,進行投資組合管理服務,依據使用者所回覆之風險資訊及個人資料,依據設定好的投資種類及可承受的風險值,建構出投資組合,使得在設定的風險係數下,能夠得到最高的報酬。
目前市場上的理財機器人主要區分為三類,第一類為提供投資建議,針對ETF或是基金為投資標的;第二類為全權委託投資業務,除了提供投資建議之外,並進行下單業務,同時提供資產再平衡(portfolio rebalancing)的功能;前兩類是直接面對消費者,由消費者直接操作使用。第三類則是提供給理專,輔助理專進行投資商品的選擇跟銷售。臺灣受限於金融法規以及市場接受度,目前僅有第一類及第三類的理財機器人。
惟理財機器人於臺灣市場開辦兩年多,資產管理規模僅新台幣7.1億元,相比國外並不如外界預期的龐大。美國自2008年開始發展機器人投資顧問產業,幾家代表性的投資顧問平台,包含Wealthfront、Betterment、Ellevest、Charles Schwab、SoFi、Bloom及PersonalCapital等,裡面有Fintech新創公司、也有銀行或投顧業者投入理財機器人的領域。在美國Betterment與Wealthfront幾乎成為理財機器人的代名詞,因此本文將針對Betterment與Wealthfront進行介紹。
現行機器人投資顧問平台以投資ETF及基金為主。其中,ETF本身交易成本較低,其包含的投資組合依所包含的成分股調整,因此投資ETF具有分散風險的優點,加上美國具有全球最大的ETF市場,所以可選擇的標的相較於其他國家為多,此為美國機器人投資顧問的優勢之一。
Betterment Holdings Inc.是最早與最大的機器人投資顧問之一,於2008年在美國紐約創建,屬於Fintech公司,管理的資產規模達180億美元。在臺灣,養老年金由政府管理並提供,美國亦有類似的社會福利,但是光靠這個遠遠不夠,因此有了401(K)與IRA等退休帳戶。Betterment支援IRA及401(k)帳戶,提供的服務包括一般財務規劃、退休投資計畫、稅務虧賣(Tax-loss harvesting)、投資再平衡(Rebalance),及收益再投資(Divident reinvestment)等,並能連結外部帳戶,以提供一個全方面的理財規劃。客戶可以察看同齡或相同收入的投資人其投資標的及資產配置。Betterment著重於投資管理及建議,客戶可依據自己不同的需求,在Betterment設立多個投資目標,投資需求多元化的客戶一般更傾向使用Betterment的服務。
於Betterment平台,沒有投資金額門檻,收費方式乃依照不同的服務內容,收取0.25%~0.4%的服務費,0.25%便支援上述退休帳戶。一般的理財機器人服務平台,沒有提供真人的理財顧問服務,但是Betterment則提供此服務,惟門檻較高(服務費0.4%以及最低USD$100,000的投資門檻)。
The Rise of the Robo-Advisor
The emergence of the robo-advisory market is upon us, and while it is still a new concept for many, several important players have already established themselves in the global market. Robo-advisors are self-guided online services which provide investment or financial advice through mathematical algorithm, helping manage customer portfolios with little to no human interaction.
According to research from Market Data Forecast, the global robo-advisory market is expected to grow at a compound annual growth rate (CAGR) of 53.54% in the next 5 years, which will translate into US$ 93.7 billion of revenue by 2025. Other research from Statista reveals that assets under management in the robo-advisory segment are projected to reach US$ 987,494 million in 2020 globally. The Asia-Pacific robo-advisory market in particular is anticipated to grow at an overall CAGR of 61.21% and be worth US$ 16.67 billion by 2023. With close to 100 robo-advisors in 15 countries as of today, there is plenty of evidence to show that it is a rapidly growing industry.
The first generation of robo-advisors were launched in 2008 following the global financial crisis. The basic theory behind robo-advisors is the Modern Portfolio Theory (MPT) which, instead of supplying a single stock, provides portfolios with a basket of stock or mutual funds. MPT assumes that investors are naturally risk-averse, meaning they prefer a less risky portfolio over a riskier one for a given level of return. The goal of MPT is to create a portfolio with the highest return under a given risk level. The expected return of the portfolio is calculated as the weighted sum of the returns of individual assets. According to statistical measures like variance, standard deviation and correlation, an individual asset is less important than the entirety of the portfolio. The correlation, which is expressed numerically by the correlation coefficient, shows the strength of a relationship between two variables (or two individual stocks in one portfolio). The range of the correlation coefficient is from +1 (positive correlation) to -1 (negative correlation). Large-cap mutual funds generally have a higher positive correlation to the Standard and Poor's (S&P) 500 Index of nearly 1, while small-cap funds may have a correlation of less than 0.8.
Robo-advisors are an integration of multiple technologies like cloud computing, web crawling, machine learning, artificial intelligence, and data analysis, among others. Structured and unstructured historical data from economy statistics, industrial analyses, price and volume of individual stock, and financial statements of firms is collected as data input to generate future predictions. By cutting out the middleman and the cost that comes with it, robo-advisors can provide services with fairly low service fees, lowering the entry barrier for consumers who wish to access wealth management services which were only provided to VIPs in the past.
A PricewaterhouseCoopers (PwC) report from January 2019 predicts that robo-advisors will likely become more popular in Asia than in the US or Europe, primarily due to a younger and more technology-savvy population. It further reveals that investors in the Asia-Pacific market tend to have less disposable income than in developed regions, which makes robo-advisors with lower service fees a much more viable solution.
StashAway
StashAway is an online investment management company in Singapore. The company was founded in 2016 and built the first robo-advisor to obtain a Capital Markets Services (CMS) license from the Monetary Authority of Singapore. It was also the first digital wealth manager to obtain digital investment management for funds from the Securities Commission in Malaysia.
StashAway is a robo-advisor pioneer in Southeast Asia. It launched its first app in 2017 and a version for Malaysia one year later, providing their clients with a data-driven framework to personalize portfolios according to consumer assets, purpose of investment, and risk preference. With the robo-advisor, after answering a questionnaire and picking a savings goal, consumers receive a tailored financial plan, and can choose between a conservative or a more aggressive plan, even though they have no control over asset class or allocation. Once satisfied with the plan, consumers can transfer lump-sum payments and set up monthly transfers to start an investment with US ETFs via StashAway.
Beyond financial advices, StashAway also provides investment management, rebalancing, dividend reinvestment, and real-person customer service with no minimum balance and a yearly 0.2% – 0.8% management fee. This fee includes all transaction, rebalancing, automatic adjustments for return optimization, and automatic portfolio protection costs. As there is no lock-up period, consumers can withdraw investments at any time.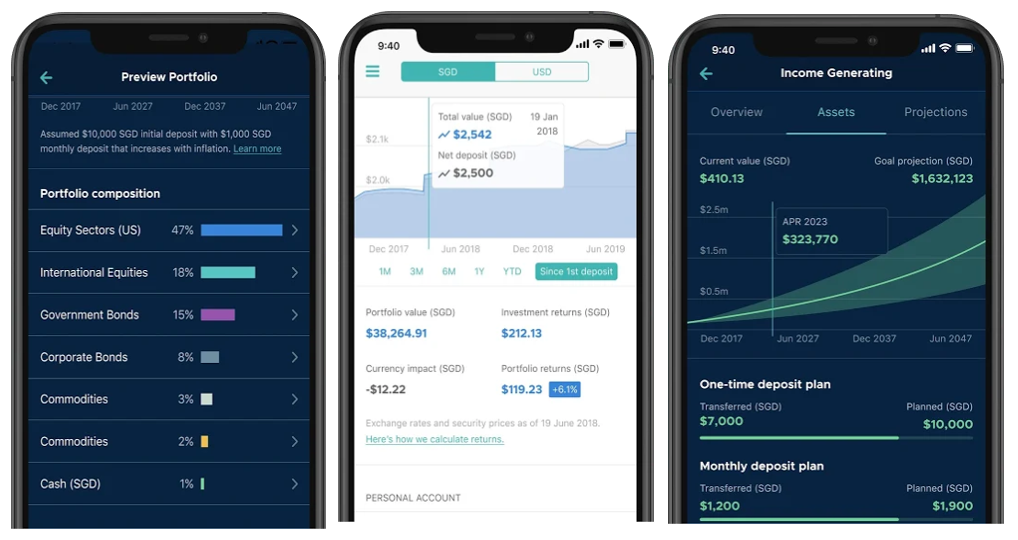 StashAway website
WealthNavi
Due to the amendment of laws and regulations in Japan, AI financial services began to emerge in 2015. Tokyo-based WealthNavi announced on February 2018 that it had secured JP¥ 1.5 billion (approximately US$ 13.5 million) in funding from Mirai Creation Fund, Global Brain, Sony Innovation Fund, DBJ Capital, SMBC Venture Capital, and Mizuho Capital, with JP¥ 3 billion (US$ 27.5 million) in loans from multiple financial institutions. WealthNavi is a leading robo-advisory startup in Japan with more than JP¥ 90 billion in assets under management in 2018. It offers a platform for asset managers to provide advice based on risk management algorithms.
Investors in the US prefer to put their money in the stock market or mutual funds, while those in Japan will choose to save it in banks. With corporate culture increasingly reducing annual retirement bonuses and the ageing population, the wealth management market is not big enough for banks in Japan. It is better suited for small startups. Therefore, WealthNavi's target audience is the younger generation between the ages of 30 and 50 who do not have much disposable cash and struggle to explore the best way to invest their money long-term, as keeping money in banks generates low annual returns. After asking a few questions, WealthNavi provides consumers with an optimal portfolio based on their risk preference and time horizon for investment. The entire process takes less than two minutes, plus another three if the consumer is satisfied with the portfolio and transfers the money for investment. WealthNavi requires a minimum investment of JP¥ 1 million and charges a yearly fee of 1% with rebalancing and automatic tax optimization features.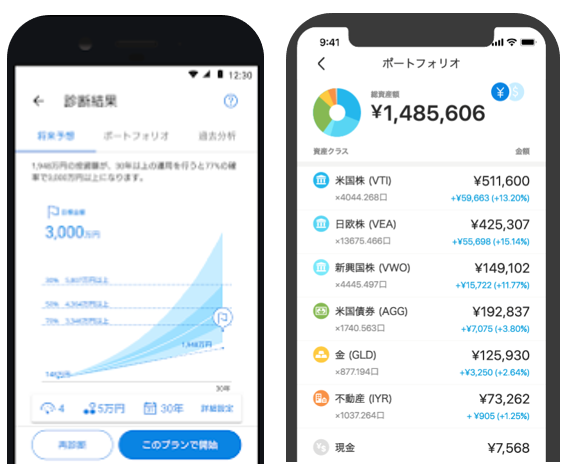 WealthNavi website
Although robo-advisors have been in the market for more than 10 years, there is still room for growth and improvement, especially in service personalization and widening product ranges. However, based on the rapid development of computer hardware and software technology, robo-advisors have an undoubtedly promising future.